Eurofighter EF2000 Typhoon FGR4 - 29(R) squadron - Special marking Hurricane 1A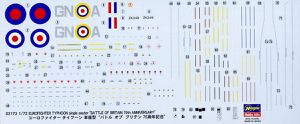 La société Hasegawa a édité une boite de maquette pour réaliser la décoration spéciale appliquée sur Eurofighter EF2000 Typhoon FGR4 du 29(R) squadron de la RAF - Royal Air Force basé à RAF Coningsby et portant un marquage special commemorant la décoration du Hurricane 1A of du N° 249 Squadron piloté par le Flt Lt James Nicolson VC, le seul pilote ayant reçu la Victoria Cross lors de la Bataille d'Angleterre.
The Hasegawa company published a box kit to achieve special decoration applied Eurofighter EF2000 Typhoon FGR4 of 29 (R) Squadron of RAF - Royal Air Force based at RAF Coningsby and bearing a special mark commemorating the decoration of Hurricane 1A of the No. 249 Squadron flown by Flt Lt James Nicolson, the only pilot who received the VC - Victoria Cross during the Battle of Britain.